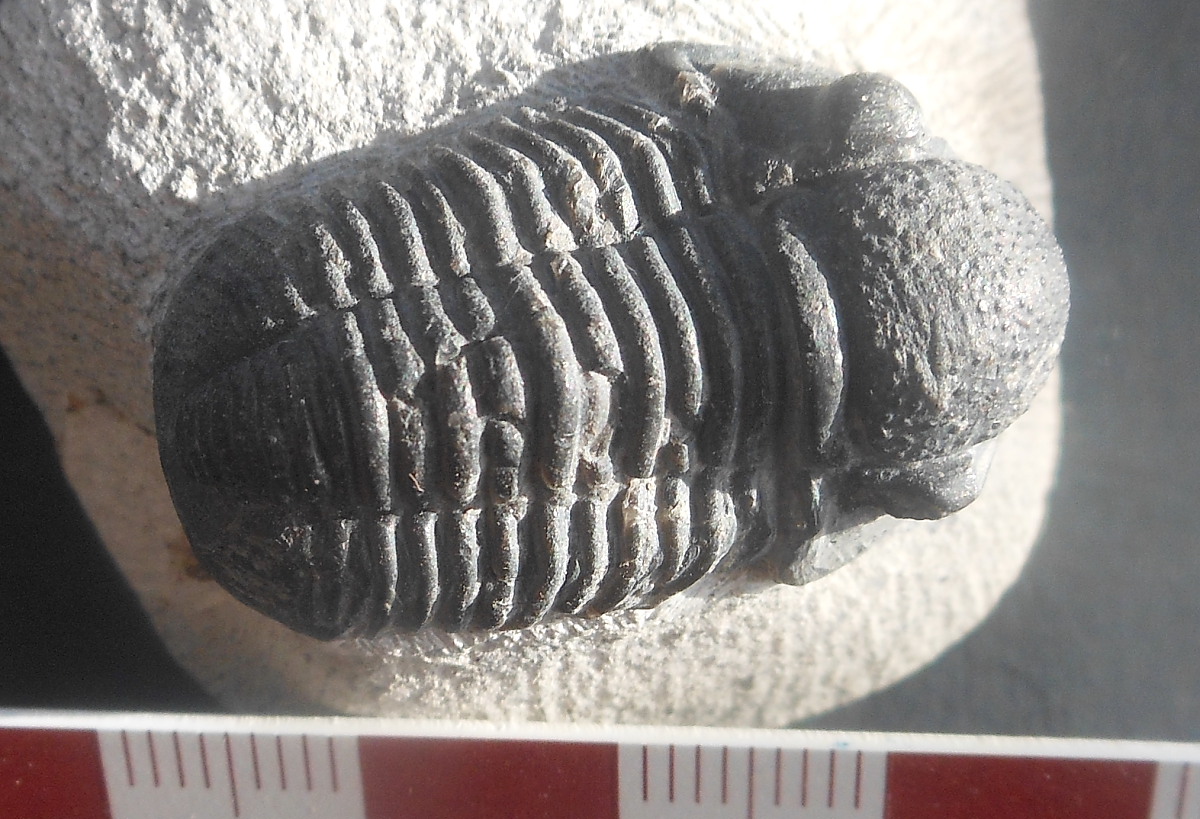 Figure 1. A small, nicely prepared example of a trilobite fossil from Alnif, Morocco. The area is some 150 km east of Ouarzazate, in southeastern Morocco near the border with Algeria. The specimen is of Devonian age (419-359 Ma). The specimen is 30 mm long, 19 mm wide and 9 mm high. The eyes are clearly visible on either side of the head (cephalon), while the remainder of the body consists of at least 19 articulated sets of plates and legs comprising the thorax and tail (pygidium). Specimen from Stenelux, Amsterdam, Netherlands (see also Rocks of the Month 163, 164, 168).
---
"Rock of the Month #185, posted for November 2016" ---

Phacops reedops

is a species of trilobite, a member of an extinct class of arthropods that were abundant and widely distributed for much of the Paleozoic era, 541 to 252 Ma (million years ago). They appeared in the Cambrian period and thrived then and during the Ordovician. Frequent references to the later genera appear for the Silurian and Devonian, but they ceased to be important by the Carboniferous and became extinct in the late Permian, toward the close of the Paleozoic era. Richard Fortey (2000) has written an excellent little book in praise of trilobites, a good place to begin a detailed survey of these creatures and their importance to science.

The anatomy of these curious animals is described both in textbooks and reviews for collectors (e.g., Turek et al., 1988, pp.328-331) and detailed monographs (e.g., Moore, 1959; Kaesler, 1997). Trilobites play their part in the pageant of evolution and extinction (Alcosser et al., 1991), beginning in the Cambrian (Gore and Mazzatenta, 1993). The evolution of trilobites, and especially their eyes, is treated in detail by Fortey (Fortey, 2000a,b; Fortey and Chatterton, 2003). Superbly preserved specimens from southern Morocco's Timrahrhart Formation include the phacopoid trilobite genus Erbenochile (Fortey and Chatterton, 2003). Trilobite eyes are also a passion of the great trilobite hunter and admirer Riccardo Levi-Setti, whose 2014 masterwork includes a truly remarkable assemblage of colour photographs of trilobites. Levi-Setti, a physicist by profession, has spent more than five decades collecting and learning about trilobites.
Trilobites may help to refine our picture of geological time ("biostratigraphy") in combination with other ancient creatures, such as graptolites, brachiopods and conodonts (Lenz et al., 1993). An example is the use of trilobites in the middle Cambrian of Morocco (Geyer, 1998). Work on Cambrian strata in south Wales, New Brunswick and Morocco suggests that trilobites appeared towards the end of the lower Cambrian, that is, relatively late in the span of Cambrian time (Landing et al., 1998). The decline and demise of trilobites seems to have involved multiple misfortunes, first with a late Ordovician glaciation (Copper, 1999), and then a period of late Devonian black shale deposition that was widespread around the world (Wang et al., 1993). Finally came the Permian-Triassic extinction event, wherein some 95% of marine animal species died off, including many brachiopods, corals, crinoids, bryozoans, cephalopods and, yes, the trilobites (Hoffman and Blair, 2000).
They may be preserved in superb detail, in some instances via molecular replacement by pyrite, as in New York state (Briggs and Edgecombe, 1992; Kolbert, 2014). Some incredibly well-preserved, well-prepared spiny trilobites from the middle Ordovician strata near St. Petersburg in Russia were acquired by the Royal Ontario Museum. (Rudkin, 2007). Not only are trilobites often preserved, but their tracks (Cruziana) and burrows are preserved as trace fossils (ichnofossils), which provide indications of the ecology of the time, even in the absence of the animals themselves (Seilacher, 1994).
Levi-Setti's sumptuously illustrated world guide to trilobites (2014) includes much information on Morocco, where he made eleven yearly two-week collecting trips to the Anti-Atlas and sub-Saharan ranges (ibid., p.ix). He has assembled a substantial review of Cambrian, Ordovician and Silurian trilobites of Morocco (ibid., pp.27-94). Devonian examples include various species of Phacops, including the oddly-named Phacops (Drotops) megalomanicus and Phacops armatus, as well as representatives of such genera as Acanthopyge, Ceratarges, Ceratonurus, Coltraneia, Cornuproetus, Crotalocephalus, Dicranurus, Erbenochile, Harpes, Hollardops, Kayserops, Kolyhapeltis, Koneprusia, Metacanthina, Mrabikina, Odontochile, Paralejurus, Psychopyge, Quadrops, Saharops, Scabriscutellum, Scutellum, Thysanopeltis, Treveropyge, and Walliserops. This is a good indication of the richness of the fossil beds of the country! He also illustrates additional superb Moroccan specimens seen at the annual Tucson Gem & Mineral Show (ibid., pp.217-241), noting that much-cheaper-than-usual offerings may be accurate reproductions (less charitably, fakes). Remembering that many museums have fine plaster / plastic / metal models of dinosaurs and other rare specimens, I might not be too dismissive of a good "mock-up", as long as it is sold as such!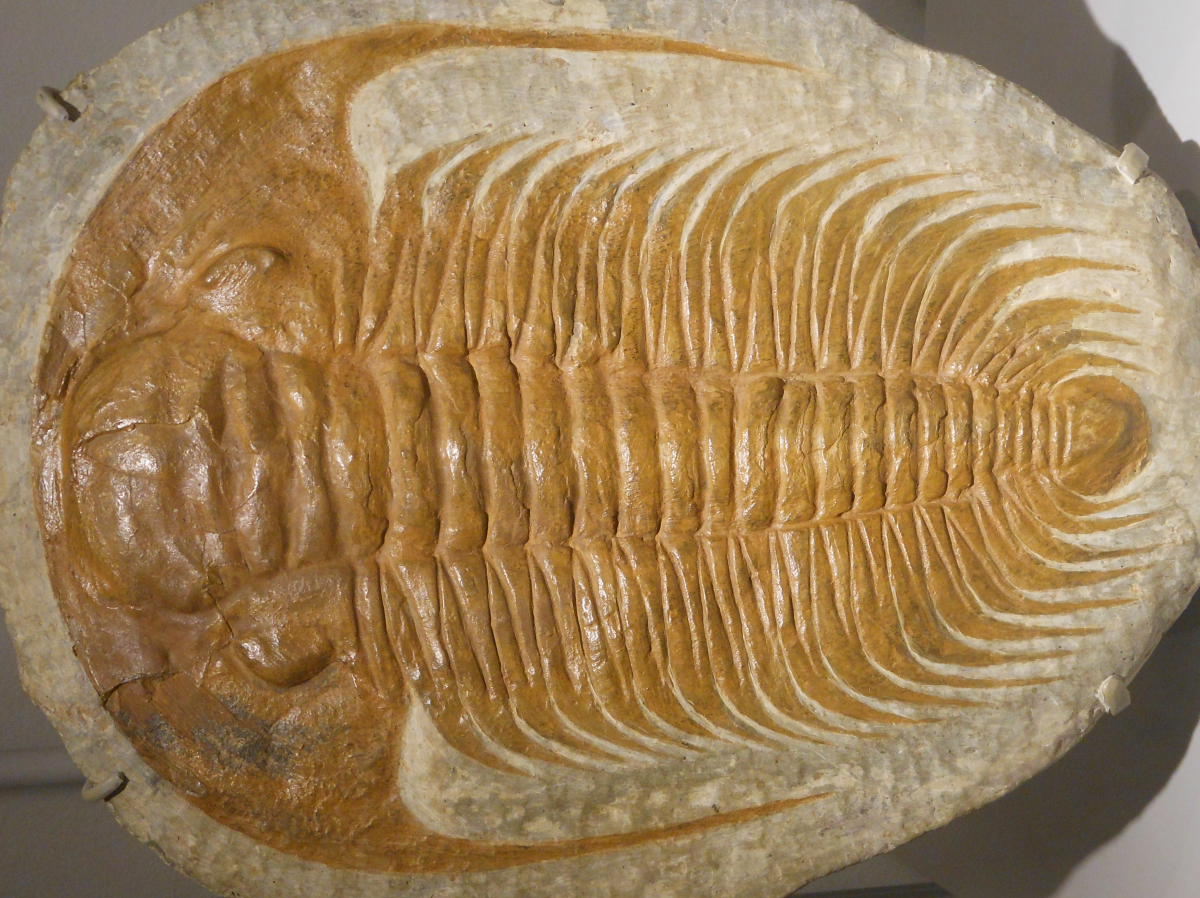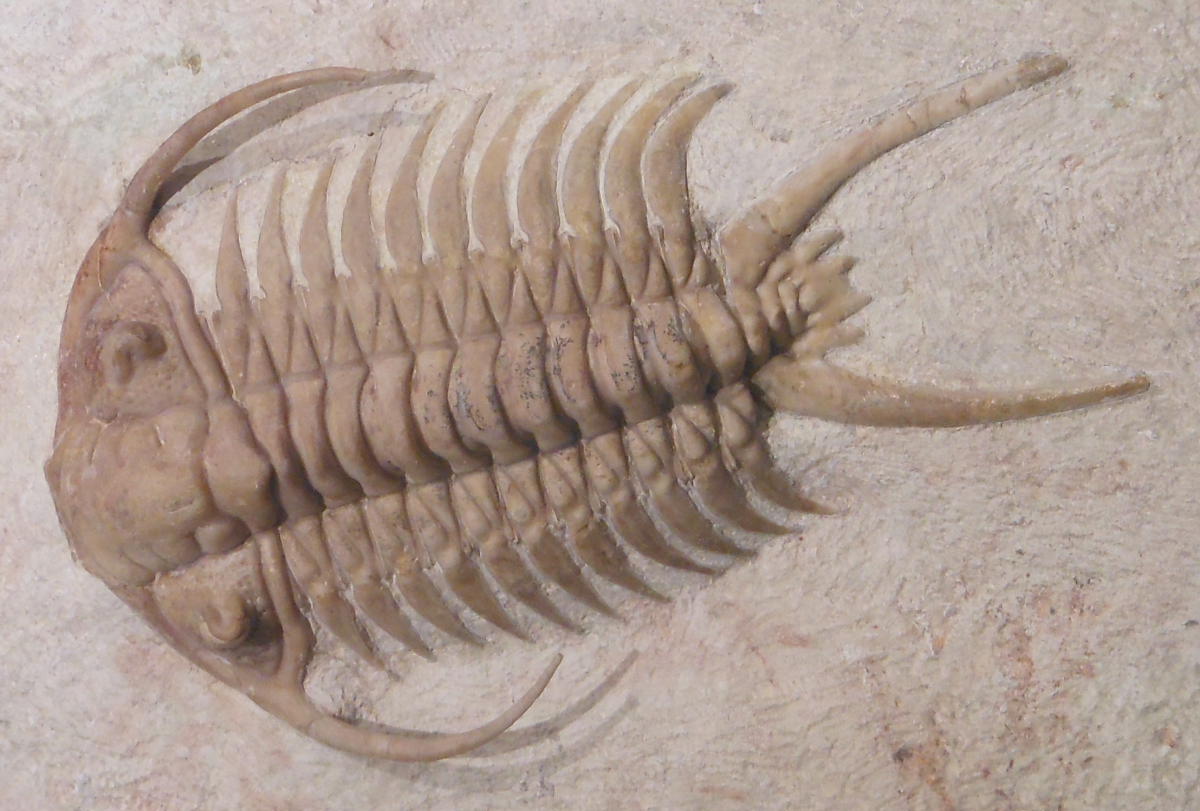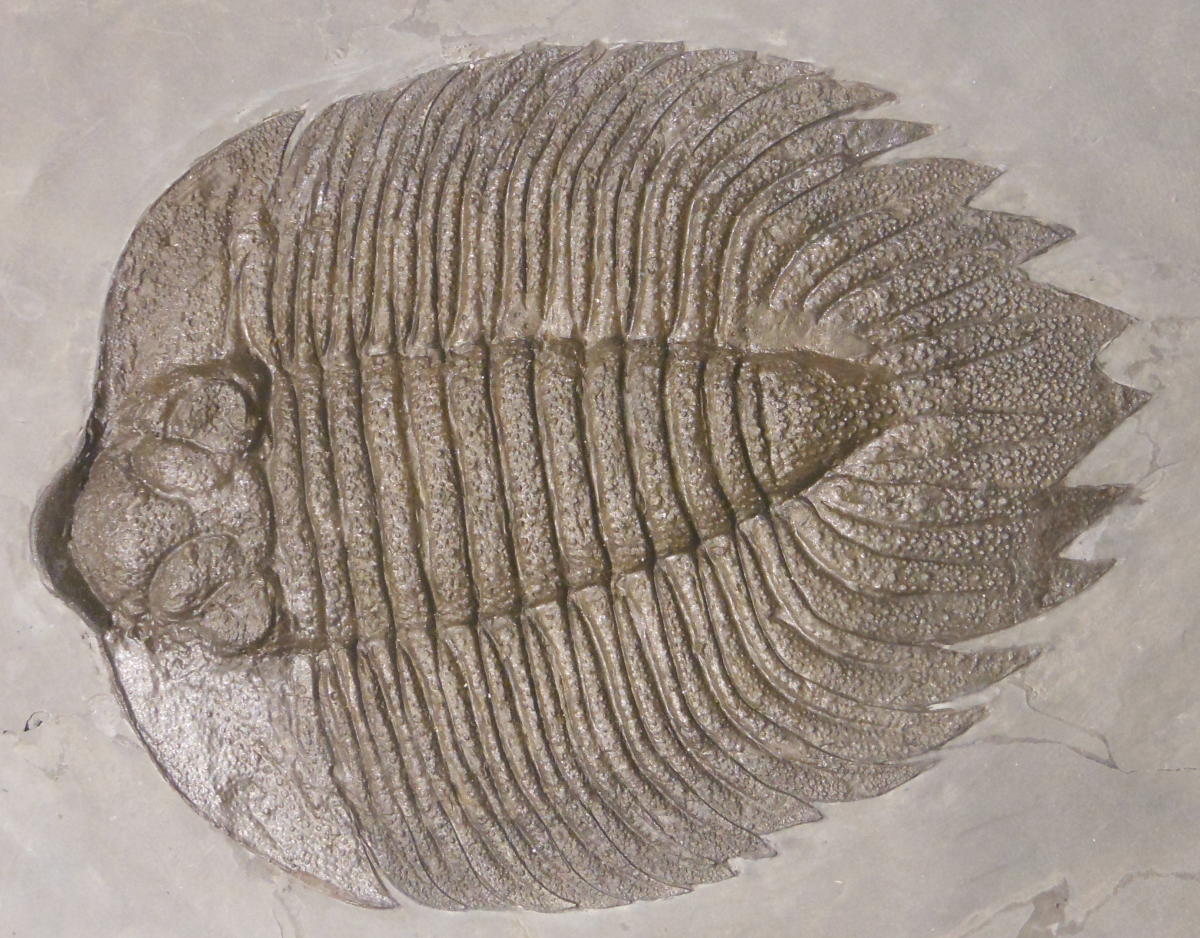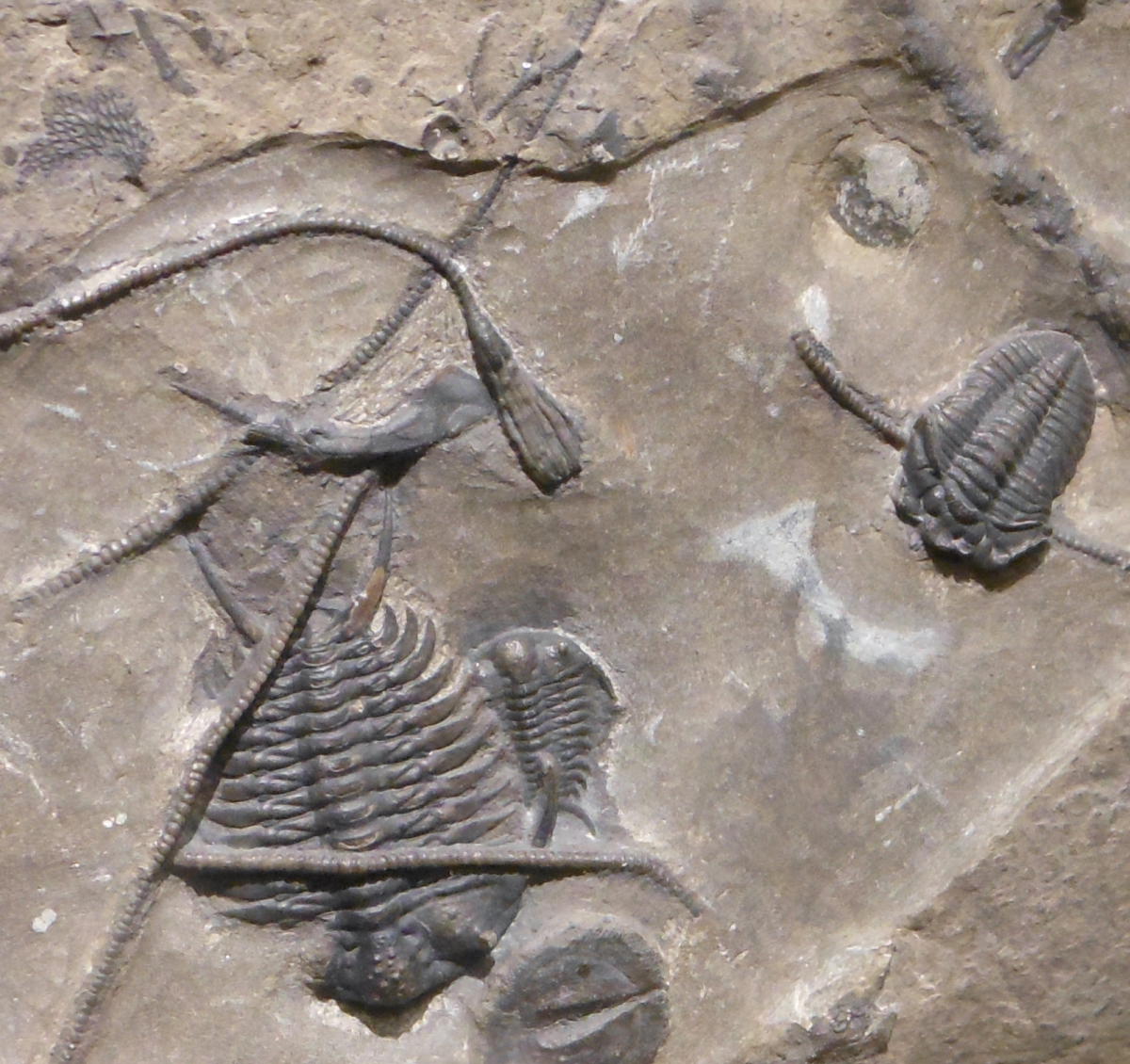 Figures 2-5. Here are some photographs of superb trilobite specimens, taken at the American Museum of Natural History in New York City, November 2014. Details to be added in due course...
---
References, in Chronological Order
Moore,RC (editor) (1959) Arthropoda 1. Treatise on Invertebrate Paleontology, volume TRE-O, 579pp.
Turek,V, Marek,J and Benes,J (1988) Fossils of the World: a Comprehensive Practical Guide to Collecting and Studying Fossils. Arch Cape Press, New York, 1990 edition, 495pp. (1988)
Alcosser,M, Eldredge,N and Gould,SJ (1991) Fossils: the Evolution and Extinction of Species. Princeton University Press, xx+220pp.
Briggs,DEG and Edgecombe,GD (1992) The gold bugs. Natural History 101 no.11, 36-43.
Gore,R and Mazzatenta,OL (1993) Explosion of life: the Cambrian period. National Geographic 184 no.4, 120-135.
Lenz,AC, Jin,J, MacCracken,AD, Utting,J and Westrop,SR (1993) Paleozoic biostratigraphy. Geoscience Canada 20, 41-73.
Wang,K, Attrep,M and Orth,CJ (1993) Global iridium anomaly, mass extinction, and redox change at the Devonian-Carboniferous boundary. Geology 21, 1071-1074.
Seilacher,A (1994) How valid is Cruziana stratigraphy? Geol.Rundschau 83, 752-758.
Kaesler,RL (editor) (1997) Arthropoda 1, Trilobita (revised) Vol. 1. Treatise on Invertebrate Paleontology, volume TRE-OV1R, 550pp.
Geyer,G (1998) Intercontinental, trilobite-based correlations of the Moroccan early middle Cambrian. Can.J.Earth Sci. 35, 374-401.
Landing,E, Bowring,SA, Davidek,KL, Westrop,SR, Geyer,G and Heldmaier,W (1998) Duration of the early Cambrian: U-Pb ages of volcanic ashes from Avalon and Gondwana. Can.J.Earth Sci. 35, 329-338.
Copper,P (1999) Late Ordovician and late Devonian mass extinctions: relevant to impacts? GAC/MAC Abs. 24, 25, Sudbury.
Fortey,R (2000a) Trilobite! Eyewitness to Evolution. Harper Collins, London / Alfred A. Knopf, New York, 287pp.
Fortey,R (2000b) Crystal eyes. Natural History 109 no.8, 68-73.
Hoffmann,HJ and Blair,J (2000) When life nearly came to an end: the Permian extinction. National Geographic 198 no.3, 100-113.
Fortey,R and Chatterton,B (2003) A Devonian trilobite with an eyeshade. Science 301, 1689.
Rudkin,D (2007) From Russia with spines. Rotunda 39 no.3, 9-11.
Kolbert,E (2014) Bug bed. New Yorker 90 no.24, 20.
Levi-Setti,R (2014) The Trilobite Book: a Visual Journey. University of Chicago Press, x+273pp.
Graham Wilson, 09-10,13,25 November 2016
These references were selected from a set of 215 records concerning books, articles, and notes about trilobites (1886-2014) in Turnstone's MINLIB database.


Visit the Turnstone "Rock of the Month" Archives!

or the "Rock of the Month Index".
---